Type of yellow and black bird. Old World Orioles are monogamous and build their nests like hammocks from branches. New World orioles are not related to Old World orioles. New World orioles are song birds in the blackbird family. 
Stevens's Poems:

Edit
Like Decorations in a Nigger Cemetery, line 84 (xxv.1): "From oriole to crow, note the decline"
Line 86 (xxv.3): "Oriole, also, may be realist" 
According to Northrup Frye, the oriole to crow relationship can be equated to the belief in disillusionment, "that is, to think we are nearest the truth when we have established as much falsehood as possible" (Frye 359). This is a very common theme in Stevens's poetry. 
Additional References:

Edit
Letters

1907, to Elsie: From verses Stevens was working on at the time, "Our oriole sings, our wild-rose blooms"

January 24, 1909, to Elsie: Another line from Stevens's current project: "To a dart, an oriole sings"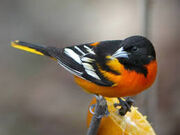 Ad blocker interference detected!
Wikia is a free-to-use site that makes money from advertising. We have a modified experience for viewers using ad blockers

Wikia is not accessible if you've made further modifications. Remove the custom ad blocker rule(s) and the page will load as expected.