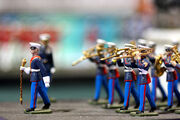 "Chef d'orchestre" is a French term that translates "conductor," "choirmaster," or "bandmaster."
"Evening Without Angels"
Edit
"Chef d'orchestre" appears in Stevens' poem "Evening Without Angels": 
Why seraphim like lutanists arranged
Above the trees? And why the poet as
Eternal chef d'orchestre?

                                Air is air,
Its vacancy glitters round us everywhere.
Its sounds are not angelic syllables
But our unfashioned spirits realized
More sharply in more furious selves.[1]

Stevens seems to be questioning the place of the poet in this poem by juxtaposing the poet and seraphim, as well as questioning the poet's nature and his source of inspiration.
References
Edit
1. http://www.patheos.com/blogs/daylightatheism/2009/06/poetry-sunday-xxvi/