Reference to the Carolinas as destination.
Associated with themes of motherhood in In the Carolinas .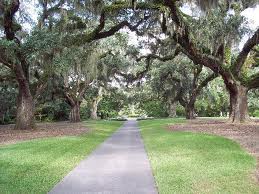 In The Carolinas
The lilacs wither in the Carolinas.
Already the butterflies flutter above the cabins.
Already the new-born children interpret love
In the voices of mothers.
Timeless mother,
How is it that your aspic nipples
For once vent honey?
The pine-tree sweetens my body.
The white iris beautifies me.
Additional Connections:
Edit
His letters include one that Stevens wrote to Elsie on February 11, 1923 in which he discusses the Carolinas. He notes that poverty is a more serious problem in rural South Carolina since "North Carolina is making very rapid progress in every direction. She is one of the great states or will be" (L. 260, p. 237). In this letter, he goes on to describe the signs of spring and flowers he has seen through the south. In a 1944 letter to Mr. Simons, Stevens tells the story of an acquaintance who made large plans to stay in North Carolina only to remain one night before returning to New York. 
Stevens follows this story with his own opinion, which had not changed since his earlier letter to Elsie. 
Stevens was awarded the Blindman prize for "From the Journal of Crispin" through the Poetry Society of South Carolina.
Poems that Reference Carolina:

Edit
The Comedian as the Letter C, i: The World without Imagination

Line 55, "And then to Carolina. Simple jaunt."
The Comedian as the Letter C, iii: Approaching Carolina

Line 63, "Between a Carolina of old time," 
From the Journal of Crispin (OP)

Line 60 (I.60), "And then to Carolina. Simple jaunt."

Section Title in III

Line 290 (III.78), "Between a Carolina of old time," 
"In the Carolinas"