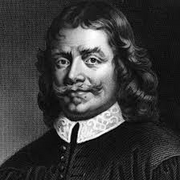 John Bunyan
(1628-1688) was an English Christian preacher, writer, and political non-conformist whose allegory,
The Pilgrim's Progress
, was for many years the most translated English book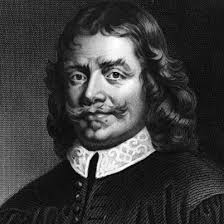 outside the Bible. After a young man's life of relative pleasure, at 21 John (according to his autobiography
Grace Abounding
) began having visions and aural hallucinations urging him to "sell Christ" and later another voice that asked him "Wilt though leave thy sins and go to heaven or have thy sins and go to hell?" His subsequent conversion illuminated the degradation of his past life (whereafter he refered to himself as the "chief of sinners," as did Paul) and he began preaching without the license required by the King. He spent two resistant terms in prison (over the course of which he conceived and wrote
Pilgrim's Progress
) but eventually became ordained as a Baptist (though his theology was Puritan) and preached and wrote until the end of his life.
In his essay "Effects of Analogy," Stevens criticizes the kind of allegory that Bunyan made famous saying that "the other meaning" (the Christianity that is the allegorical parallel in Pilgrim's Progress) "divides our attention and thus diminishes our enjoyment of the story." Stevens preferred the Fables of La Fontaine, whose analogical referents where open ended and contained multiple meanings. Steven's preference for this type of analogy is evident throughout the entire corpus of his work.