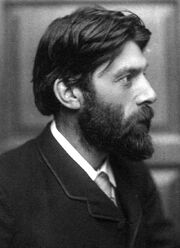 Robert Bridges (1844-1930) was a Victiorian classicist who served as poet laureate of Britain from 1913-1930. He is best remembered today for his long philosophical poem The Testament of Beauty, published in October 1929, as well as for his friendship and correspondence with Gerard Manley Hopkins. Bridges' posthumous edition of Hopkins' poems was a "major contribution to English literature" ("Robert Bridges," Poetry Foundation ).
What Has Bridges To Do With Stevens?
Very little. Stevens quotes briefly from a letter written by Henry Badley to Robert Bridges in the opening paragraph of his essay "The Figure of the Youth as Virile Poet. " However, Bridges is not, in fact, Stevens' focus. Stevens is more interested in the skepticism with which Badley, in his letter, treats all philosophy, ancient and modern. This skepticism serves as a launching point for Stevens' musings on the long running feud between poetry and philosophy, in which he suggests that where philosophy offers the "official view" of being, poetry is the "unofficial view" and in which he determines a slight advantage for poetry in the philosophical aim of apprehending Truth.  
There may be another connection between Stevens and Bridges in that both poets made the relationship between the poet, the imagination, and absolute reality major subjects. As such their works may bear some comparison. For example, one might begin to trace the ghost of a relationship between them by comparing parts of Bridges' Testament with Stevens' "Final Soliloquy of the Interior Paramour,"  both of which involve lyric speakers who, at night fall, fall into interior reveries in which the external world is subsumed within and remade by the world in the mind. The key difference, and one rather telling for Stevens, is that while both poets flirt with High Romanticism, Bridges attributes the imagination's power to God, making his experience of the sublime fundamentally religious. Stevens, meanwhile, avoids this conclusion, and indeed argues, much more radically, that God is the central idea, the transformative fiction of the mind out if which order is made. Thus Stevens can say what Bridges cannot: "God and the imagination are one" (ln 14).