Wallace Stevens' paternal great-great-great grandmother was named Blandina. [1] The name also is somewhat familiar because of Saint Blandina , a Christian martyr of the Emperor Marcus Aurelius reign. [2] Blandina is featured in Stevens' poem "Analysis of Theme," which appears in Transport to Summer (1947). The poem is "playful," according to Eleanor Cook, [1] and begins with a seemingly nonsensical premise: "How happy I was the day I told the young Blandina of / three-legged giraffes" (1-2). [3] The poem is only one of Stevens' poems within the Transport to Summer collection that further explores the poet's work with theme and form. [1]
1. Cook 198.                                                                                             
2. 
Saint Blandina
.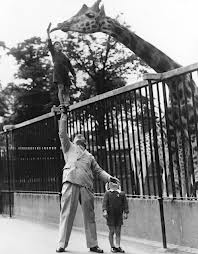 3. Stevens in Kermode and Richardson 304.
References
Edit
Cook, Eleanor. A Reader's Guide to Wallace Stevens. Princeton: Princeton UP, 2007. Print.
Stevens, Wallace. "Analyis of Theme." Wallace Stevens: Collected Poetry and Prose. Ed. Frank Kermode and Joan Richardson. New York: Library of America, 1997. 304-5. Print.