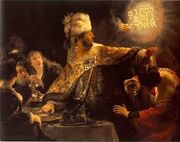 6th century BC prince of Babylon. In the Book of Daniel, Belshazzar sees the writing on the wall during a large banquet. He offers riches and power to the man who read the mysterious words on the wall, and the queen suggests having Daniel read them. Daniel, having been named chief of Magicians and Soothsayers by Nebuchadnezzar, dismisses the notion of reward and translates the writing. Daniel was rewarded anyway, but that very night Belshazzar was killed and Darius the Mede when the Persians overthrew Babylon. 
Belshazzar is referenced in multiple works from music and literature to art. Johnny Cash and Bob Dylan both have songs about him, and poets Robert Frost and Emily Dickinson both reference him as well. Shakespeare's Portia, in Merchant of Venice, disguises herself as Belshazzar in Act IV.
References in Steven's Poetry:
Edit
Country Words
line 3   "In a canton of Belshazzar"

line 4   "To Belshazzar, putrid rock,"

line 14  "Belshazzar's brow, O, ruler, rude

line 20  "It wants Belshazzar reading right"
​
Cook  writes that this poem is "about singing and writing in exile [and] [t]he exile for Stevens is spiritual, not literal, and it is bitter" (141). According to Malcolm Woodland, the poem is about virility. Woodland states that the poem "is marked by a heightened awareness of the social pressures placed upon the poet in a time of particular social and political upheaval, and it may be these pressures that influences the reconceptualization of virility that one finds in this poem" (60). 
References:
Edit
Cook, Eleanor.A Reader's Guide to Wallace Stevens. Princeton: Princeton UP, 2007. 141. Google Book. Web.
Woodland, Malcolm. "What Could Not Be Shaken: Meditation in a Time of War." Wallace Stevens and the Apocalyptic Mode. Iowa City: U of Iowa P, 2005. 27-69. Google Books. Web.