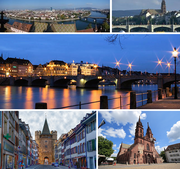 Basel is a city in Switzerland located where the Swiss, French, and German borders meet. Switzerland's third most populated city, Basel is situated on the Rhine River and was home to Friedrich Nietzsche.
"Description without Place"
Edit
In "Description without Place," Stevens refers to Basel in connection with Nietzsche:
Things are as they seemed to Calvin or to Anne
Of England, to Pablo Neruda in Ceylon,
To Nietzsche in Basel, to Lenin by a lake. [1]
References
Edit
1.[http:// http://www.sas.upenn.edu/~cavitch/pdf-library/Stevens_Description.pdf http://www.sas.upenn.edu/~cavitch/pdf-library/Stevens_Description.pdf ]